Powerful
Each gummy has 75 mg and 225 mg per pouch of plant-based energy*.
Fast Acting
Fast-acting energy gummy that tastes good. Get caffeinated with no compromises.
Long Lasting
At 75 mg of caffeine per gummy, you decide what you need. Take 1 gummy every 4 hours for energy throughout the day.*
Personalized energy
With 3 gummies in every pouch, you can eat 1 or you can eat them all to your tailored needs. 

Plant based energy*
Made with natural caffeine from green arabica coffee beans, real fruit, high in antioxidants from Vitamin D, free from gluten, soy, and artificial colors. You also won't find any animal products in our gummies! Just vegetarian-friendly goodness throughout our energy supplements, with an easy to understand label. 

INGREDIENTS
Cane Sugar
Organic Tapioca Syrup
Glycerin
Elderberry Contains <2% of:
Citric Acid, Natural & Artificial Flavors, Pectin, Sea Salt, Sodium Citrate, Sucralose.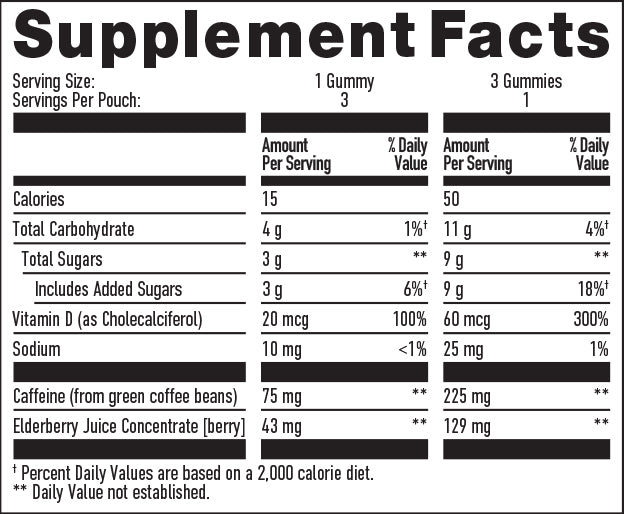 =

=

=
Easily Personalize Your SHOT
Get full control of your energy! At 75 mg of caffeine per gummy, you decide what you need. Need 75 mg for a morning boost? Take 1 gummy. Need even more energy to tackle the day? Take 2 or 3. With 225 mg of caffeine in each pouch you decide your energy needs, easily. We took the concept of energy gummies and elevated it. You'll like taking gummies as much as an adult as you did as a kid, we promise. 
How we stack up
Comparisons are from Caffeine